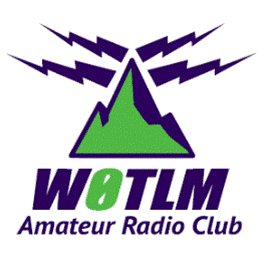 ---
ANNOUNCEMENTS
WØTLM Monthly Meeting  Mon, 16 May 07:00 PM - 09:00 PM - no weekly  net.
Club Business meeting 7:00-7:30 pm. in person and Via Zoom, 
Presentation:7:30-9:00  Also via Zoom- Topic: All Things Digital - a synopsis. Differences, advantages and disadvantages of DMR, D-Star, C4FM (Fusion).  Speaker: Bill "Bucky" Buckwalter, WØSUN.  Bill is a member of the Parker Radio Association and Co-Host of the Digital Learning Net, a weekly net on the SKYHUBLINK where they answer questions and discuss everything about Digital Ham Radio.
---
WØTLM will have a vendor table at the PPRAA MegaFest on July 16th. The club is offering to reimburse the $5 admission cost for any member who wants to work the vendor table for an hour. Free admission for just an hour of your time!    MegaFest hours will be 8:00 a.m to 2:00 p.m. (although the event begins to wrap up after 12:00 when the door prizes are announced). Vendors can enter at 6:00 a.m. to set up.  We'll circulate a schedule closer to the event so anyone interested can sign up.  Many thanks to those of you who want to participate.
---
WØTLM to again assist with communication at the Monument /Kiwanis 4th parade.  I am sure you will see more in future issues.  Think about being a volunteer. 
 
---
Weekly Net.  We need volunteers !!! 
To act as the net control station during our weekly net. Please volunteer. If each member of the club would take one net per year, we would have every net covered.  Hey it is cold outside so you don't really have an excuse.

May 23- We need a net control operator

May 30 - We need a net control operator

June 6 - We need a net control operator

June 13 - We need a net control operator

Our thanks to those who are volunteering to serve as Net Control Operators. We always need Net Control Operators, so please volunteer. This is a wonderful opportunity to improve your on-the-air skills. It is easy to sign up, just go to the Net Control signup page at the Club's website and follow the instructions. There is a simple script on the same page , bottom of the page, that is easy to follow. Info on the NØXLF and KØNR repeater can be found on that page as well.

If you are into HF nets check this out: NetScraper

If you have an interest in Digital Radio nets (locally) check out the Skyhub Link System nets - they support a digital learning net on Wednesdays on all the digital outlets,  DMR, Fusion, Dstar, Allstar, etc.  even the strictly analog user can find a way to listen as well as radio challenged hams can use Echolink on your computer to connect.  
Next check out the Colorado Repeater Association and the Colorado Connection system for nets.
---
Solar activity:   SOLAR CYCLE UPDATE: See the data @ Spaceweather.com or Graphical Solar picture.  
Take note the numbers are up the bands are alive - worked 10 meters into Australia after dark recently as well as having 6 meter openings.  On the 10th the Sun had a huge SUNQUAKE:   THE FIRST SUNQUAKE OF SOLAR CYCLE 25: This week, the sun trembled. On May 10th, an X1.5-class solar flare produced the first sunquake of Solar Cycle 25. It was like an earthquake albeit orders of magnitude more powerful. See the movie on today's edition of Spaceweather.com.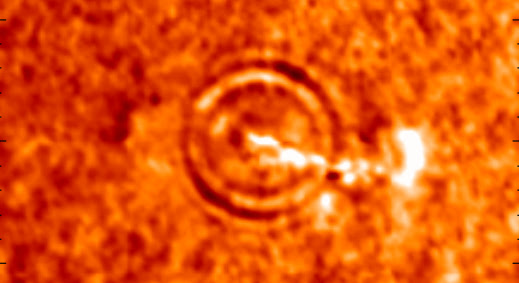 Solar Flare Alerts: Sign up for Space Weather Alerts and get instant text notifications when solar flares are underway.  There are numerous sites and ways to check and see where and what the chances are of that great contact.  One to check is W5MMW solar site info  Check it out.  Also this site provides solar data NØNBH.
DX of interest - DX News check the link.  One more tip that I just came on that may be nice to know.  Would you like to have a world map centered on your location?  go here for that free  Azimuthal Map
---
Local Educational Events.

Check out our own website club presentations -  WØTLM Presentations.  We have a tremendous array of presentations on numerous subjects.  If you find one that you need more info on just contact the Elmering crew below.

Elmering (the best way for local Educational help) . Jim NCØJW and others have been providing help to those who request assistance. If you need help with anything, please reach out. Our Google Groups email system is great for this purpose. If you have a question, please feel free to ask it - and remember: There are no stupid questions. If you have more than a question or two or would like to be paired with an Elmer, please let Jim NCØJW, Bob KØNR, KØTRD Tricia, WØGAS Greg, or me know and we'll do our best to connect you with someone who can help you.

The online educational events scheduled by RMHAM:
nothing more till Fall? 
RMHAM Past Presentation Videos Available Past presentation and class videos are available if you cannot make it to the classes. Upcoming 2021-2022 RMHAM University classes and Tech Talks are listed at: https:// www.rmham.org/rocky-mountain-ham-university/. Presentations are free, and classes (not Tech Talks) have the option of in-person attendance.

ARRL's new Learning Center has been launched. The ARRL has increased the offerings under this program, so please look at the expanded list of offerings. This Center will host a wide selection of training courses, webinar recordings, and instructional materials. In relation to their Learning Center, check out the FREE ARES Learning items, if you ever want to do Public Service Communication, this is a good place to start.

Best of the best for New Hams.  The ARRL has just implemented YouTube videos for the ARRL Handbook Keep an eye on them as new ones come out.  If you are an ARRL member don't forget to check out the digital versions of the publications.

More items of interest for the list:  CW Academy classes start again in early May. Sign-ups begin March 20. Great way to learn and progress with Morse code.  The CW Academy link is:  https://cwops.org/cw-academy/cw-academy-options/
---
Ham Fests / Conventions coming up:

PPRAA - MEGA FEST  (note: right here in Monument!)
Saturday July 16, 2022, 0800 to 1300 (Vendors 0600) Ticket sales 0730, Lewis-Palmer High School, 1300 Higby Road, Monument, CO,  Pikes Peak Radio Amateur Association Inc., A 501(c)(3) Non-profit Organization. 
6′ TABLE RENTAL: (Does NOT include admission) One chair per table included with table rental Early Bird (before 1 May)……..$12.00 In Advance (1 May – 2 July)……..$15.00 Last Minute (after 2 July)…….$17.00 ADMISSION: $5.00     Drawings !!! Prizes !!!
SPECIAL NOTICE!!!!!!!
WØTLM will have a vendor table at the PPRAA MegaFest on July 16th. The club is offering to reimburse the $5 admission cost for any member who wants to work the vendor table for an hour. Free admission for just an hour of your time!    MegaFest hours will be 8:00 a.m to 2:00 p.m. (although the event begins to wrap up after 12:00 when the door prizes are announced). Vendors can enter at 6:00 a.m. to set up.  We'll circulate a schedule closer to the event so anyone interested can sign up.  Many thanks to those of you who want to participate.
Montrose ARC Tailgate Party  06/04/2022 - 
Location: Delta, CO
Sponsor: Montrose ARC
Website: https://montrosehamradio.org
Learn More
 
2022 D.R.C. (Denver Radio Club) Hamfest!  Sunday, August 28th, 2022, 9:00 am to 1:00 pm
New Location:
Adams County Fairgrounds, 9755 Henderson Road, Brighton, CO 80601
View Location Map
Talk-In on 145.49- 100Hz. tone; and 448.625- 100 Hz. tone
Hourly Door Prizes – Main Drawing at Noon (Must be present to win)  Admission: Only $6.00 (Children under 13 are free with a paid adult).
Exact Change is Appreciated!  Sellers' Tables: $13.00 if received prepaid by Aug. 21st,  or $20.00 at the door - if any tables are still available.
(Sellers may start setting up at 7:30 am, Aug. 28th)  Click Here for the Hamfest Flyer  (in Adobe PDF file format)  Click Here for the Sellers' Table Reservation Form  (in Adobe PDF file format)  Click here for the proposed Table Layout Plan.  (in Adobe PDF file format)  This layout is subject to change prior to the hamfest.  On-Line Purchase of Seller's Tables is Now Available.  Click here for On-Line Purchasing

ARRL Rocky Mtn Div Convention
Start Date: 10/07/2022  End Date: 10/09/2022
Location: Archer Event Center
3967 Archer Parkway, Cheyenne, WY 82009
Cheyenne, WY 82001
Website: http://facebook.com/mysarc
Sponsor: SHYWY Amateur Radio Club and Sweetwater Amateur Radio Club
Type: ARRL Convention
Talk-In: 146.94 PL 100
Public Contact: Rick Breininger , N1TEK
11 E 2nd North St Green River, WY 82935
Phone: 307-707-4010
Email: n1tek@arrl.net

REQUEST For Presentations:
From: ROBERT W RENNARD
Subject: 2022 ARRL Rocky Mtn Div Convention
Message:
Greetings –

The subject gathering will be held at the Laramie County Events Center east of Cheyenne in Archer on Saturday, October 8, 2022.
Some related activities will be happening on the day before and the day after.
I am looking for potential speakers for the Saturday forums. Any topic will be considered.
Please ask any potential speaker in your club to contact me directly with the topic they would like to present and even better with a summary.
If you have one, please post this request to your club message board or reflector.
You may also know other operators who have interesting projects, interests or skills that you can identify directly. RSVP.

Thank you, 73,
Bob Rennard – N7WY

Another place to check for HamFests: ARRL Hamfests and Conventions

Do you need to swap, sell or buy something locally before the swap fest?  two of the areas long running swap lists are available by email weekly.  You can sign up for the Aurora swaplist at n0ara.info@gmail.com.  Another one is the Colorado Repeater Assoc. Swap list and you can check it out and or sign up at craswaplist+subscribe@groups.io.  it is also read out on Sunday Mornings on their repeaters.
---
Tips, Tricks, Projects
Was busy this week on other stuff so missing a good project to put in but do have this:  
Spotlight Corner 

Are you that missing member?  Do you know that someone that needs the spotlight? This spot open for anyone that wants to give me a paragraph about a deserving member or Ham.
---

ARRL Youth Licensing Grant Program
The ARRL Youth Licensing Grant Program, in effect since April 19, 2022, will cover the one-time $35 application fee for new amateur radio license candidates younger than 18 years old for tests administered under the ARRL Volunteer Examiner Coordinator (VEC) program.

"We are thrilled that we are able to provide this opportunity to our youth candidates," said ARRL VEC Manager Maria Somma, AB1FM.
The $35 Federal Communications Commission (FCC) application fee will be reimbursed after the ARRL VEC receives the completed reimbursement form and after the new license has been issued. The reimbursement check will be mailed to the fee payer. Also, candidates younger than 18 years old would pay a reduced exam session fee of $5 to the ARRL VEC team at the time of the exam. The $5 fee is for all candidates under the age of 18, regardless of the exam level taken. Proof of under 18 status is required at the session.
The ARRL Board approved the Youth Licensing Grant Program at its July 2021 meeting in Hartford, Connecticut, expanding on the scope of the original motion proposed by ARRL Southeastern Division Director Mickey Baker, N4MB.
The Board believes the recruitment and training of young amateur radio operators is a necessary and proper mission of the ARRL and subsidization of the $35 fee will reduce the number of new amateurs that would otherwise be lost from these groups. Initially the new program would serve up to 1,000 new license applicants under 18 years old. The program length is indefinite; it may be renewed or terminated by the Administration and Finance Committee or by the Board of Directors.
Visit the ARRL website for the program instructions and reimbursement form at www.arrl.org/youth-licensing-grant-program.

Of course our club (Laurel VEC) doesn't charge for the testing.  Maybe we should consider covering the first time license fee for under 18 as well?  Express your thoughts to the leadership team. 
---

We have a full station to loan out so check that page link. Check the club webpage  WØTLM - Equipment - Cache Equipment Loan Program.

Zoom Invitation/Link for the Next Monthly Club Meeting. The link for the next monthly Club meeting and presentation (but not for Connect Time) is: https://w0tlm.org/w0tlm-club-meeting.  Connecting should be as easy as clicking the link. If you have your Zoom account set up you should be prompted to open your Zoom app. If you don't have a Zoom account, you will be prompted to permit Zoom to download. Once it has been downloaded, you will click the prompt to join the meeting. ZOOM HAS UPDATED ITS SETTINGS AND YOU MAY NOW BE PLACED IN A "WAITING ROOM" BEFORE JOINING THE CALL. PLEASE BE PATIENT, WE WILL BE WORKING TO MINIMIZE THE WAITING. Please check the lower left hand corner of the display to confirm that the video does NOT have a red line through it. Please also confirm that the microphone does have a red line through it. If you do not have a camera and microphone on your computer, you may still observe and listen in.  The steps are the same, except you do not need to adjust your microphone and camera. Finally, please change your "screen name to reflect your first and last name and call sign. We use this to determine who is attending.

Club Support we take no dues but depend on donations and other means of building and keeping our operating budget so check out the website at WØTLM - About Us on how you can help.

Sign up to receive this Newsletter. We use Google Groups for our email list, which is the best way to stay in touch with the radio club activities: WØTLM mailing list and Google group. Please pass this along to anyone who might be interested in ham radio in general or our Club specifically. Each Week, we are posting the most recent version of the Update on the Club's website. For security reasons, some of the links have been removed. If you want the links you will need to sign up to be on our mailing list.

Club officers and Committee heads:
Pres -KØTRD – Tricia
Vpres -KØNR – Bob
Sec/Tres -KØBE – Barbara
Elmer -NCØJW – Jim
NewMember Welcome -NØOLD – Dan
Class/Training/Tests -WØSTU – Stu / KØNR – Bob
Presentations -KEØHz – Loren
Net -KZØQ – Stephen
Website -KZØQ – Stephen
Equip. Loaner -KØCHP - Chip / WØSTU – Stu
Social Media -KDØYMC – Robert
ARES Liaison -AE5OQ – Armstead

You received this message because you are subscribed to the Google Groups "Tri-Lakes Monument Radio Association (WØTLM)" group.  To unsubscribe from this group and stop receiving emails from it, send an email to w0tlm+unsubscribe@googlegroups.com.

 

  WDØAJG