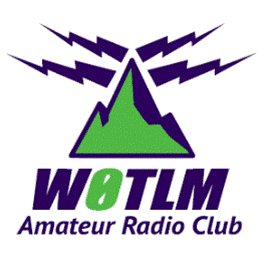 Weekly Net.  The current schedule for Net control operators for our FM Net:
June 21 - Monthly meeting, no net
June 28 - KØTRD Tricia
July 5 - KB8JLI Lisa
July 12 - NØOLD Dan
July 19 - Monthly meeting, no net
Our thanks to those who are volunteering to serve as Net Control Operators. We always need Net Control Operators, so please volunteer. This is a wonderful opportunity to improve your on-the-air skills. It is easy to sign up, just go to the Net Control signup page at the Club's website and follow the instructions. There is a simple script that is easy to follow. 

June 2021 Club Meeting - IN PERSON. The Club will hold its next meeting, TOMORROW, June 21, 2021. We will hold this meeting at the Monument Chamber of Commerce Building, located at 166 2nd St, Monument, CO 80132, starting with Connect Time at 6:00 pm. The business meeting will start at 7:00 pm with the presentation commencing shortly thereafter. We will plan on being finished by 9:00 pm. If you cannot attend or prefer not to, don't worry - we plan to broadcast the meeting and presentation via Zoom.  Stu W0STU has agreed to provide a demonstration of how this simulcast would be handled should the Club vote to acquire the recommended software and equipment. If you wish to join us via Zoom, the link is set forth below. We will be up and running on Zoom during Connect Time, continuing through the business meeting and Presentation.

June 2021 Club Meeting Presentation. Loren KEØHZ will present on the FCC Report and Order Governing RF Exposure – Why you need to care and some assistance with staying compliant with the FCC.

Supplemental Presentations. We have been discussing offering supplemental presentations that would be more focused on specific areas than the more generalized monthly presentations. If you have a specialized topic that you would like us to make a presentation about or if you have a specialized topic that you want to present because you feel a subgroup of club members might be interested in, please let us know. Contact me or Loren KEØHZ.

Third of July Parade Communications.  We are once again assisting the Monument Kiwanis club with communications for the Monument 3rd of July parade. This is the biggest small town parade you will see.  We need hams with radios to help shadow key parade organizers, provide updates on the staging of the parade participants and monitor the parade route as the parade progresses.  We are looking for 20+ volunteers for the 3rd of July from 7 am to about Noon.  New hams are very welcome to participate.  We will train you, you just need a 2 meter/70 cm radio.  We will even help you program it if necessary.  No radio, no problem.  You can borrow a radio from us.  This promises to be fun for all and help the community at the same time.  For more information, or to volunteer, please contact Tim Romashko at tim.romashko@gmail.com. 

Field Day 2021. Field Day is June 26 - 27. Each person with a license can participate in Field Day. According to the ARRL, Field Day was designed as an opportunity for amateur radio operators to set up temporary transmitting stations in public places to demonstrate ham radio science, skills and services.  FD combines public service, emergency preparedness, community outreach, and technical skills in a single event. This is the single largest ham radio event of the year. Over 35,000 hams participated last year.  Given the pandemic, there have been a couple of rule changes that permit home base stations to receive points for working other home stations. Unlike last year, there is a 150 watt ERP limit this year for stations operating as Class D or Class E,  however.  Here is a link to an article on the ARRL's website to help hams learn how to operate on Field Day. This is a fun event. Yes, it can be a contest. It can also be a way to see how many states and provinces you can work. Or how many people you can reach. Or it could be an opportunity to show non hams how our hobby works. While you are at home, consider monitoring the VHF and UHF call frequencies. There may be some with Technician licensees who are trying to make Field Day contacts..

There are several clubs in the vicinity that will have active Field Days. Please search the ARRL website for information on where they will be operating. There may be contact information and a talk-in frequency, included in the information. The Parker Radio Association (K0PRA) is planning its field day event just north of Woodland Park – which may be convenient for some of you.

Online Educational Events.  There are several online educational events scheduled for this year.
QSO Today' Virtual Ham Expo. This will be held on August 14 and 15. There should be a packed schedule of presentations. Usually they keep the presentations available after the Expo. There will be door prizes and you will have an excellent opportunity to interact with vendors. So far there is not a list of presentations to be offered. There were lots of technical glitches during the Spring 2021 Expo caused by being the testing ground for a platform that hadn't been adequately tested. Hopefully all those issues will be resolved this time around.
Podcasts of Interest:
QSO Today - Episode 356 - Ted Holland - WB3AVD. Ted Holland, WB3AVD, describes himself as a cultural anthropologist who creates artistic telegraph or CW keys based on themes that move him, including OZ's Emerald City.  His workshop is in a converted "Church in the Middle of the Block", a mini artist's colony.  Ted is an avid QRP contest operator and local emcomm enthusiast.
Ham Radio Workbench - Episode 131 - Magnetic Loop Antennas. Dr. Jack Mandelman K1VT, active DXer and CW Operator, joins the crew again to discuss non-conventional antenna options.
ARRL's Eclectic Tech - Episode 36. Will AM broadcasts go digital in a new way? The story of the last analog TV stations. A chat with John Stanley, K4ERO, about the low bands and the new solar cycle.
Learn CW. If you want to learn CW, I strongly recommend the CWops CW Academy. It is free. There is a commitment: twice weekly Zoom calls for 8 weeks, coupled with practicing an hour each day. There are four levels, Beginner, Basic, Intermediate and Advanced. These classes will help you learn the letters and numbers all the way through being capable of QSOs at 25+ words per minute speeds. The next class session starts in September. If you are interested, please sign up now. 

Contests of Interest. The following contests are upcoming. There are many other smaller contests listed on the contest calendar.
ARRL Field Day: 1800Z June 26 and running through 2059Z, June 27
CQ Worldwide VHF Contest: 1800Z July 17 to 2100Z July 18
Colorado 14er Event: August 7 & 8
North American QSO Party, CW: 1800Z, Aug 7 to 0559Z, Aug 8
North American QSO Party, SSB: 1800Z, Aug 21 to 0559Z, Aug 22
World Wide Digi DX Contest: 1200Z, Aug 28 to 1200Z, Aug 29
CWops CW Open: 0000Z-2359Z, Sep 4
FOC QSO Party: 0000Z-2359Z, Sep 11
Special Events Stations.:  
13 Colonies, July 1 - 7, 2021.
Colonial Williamsburg Special Event - 245th Anniversary of the Signing of the Declaration of Independence. July 3, 0000z -2000z.
ARRL Publications. These publications are available for free if you are a member of the ARRL:
On The Air magazine. The May-June 2021 Edition has articles on: Building and End-Fed Half-Wave Antenna, making sense of propagation forecasts, antenna mast safety and selection, Field Day, Grounding your station, Tips for enhancing Field Day, and Fox hunting.
QEX magazine. Working a geostationary satellite, adding 80 m to a 160 m receiving array, analysis, design and verification of an SA602A IC Hartley Oscillator, amplifier output impedance, 80 m Vertical near a tree, the third part of a series of using double balanced mixers, and the protocol for transmitting binary data over Morse cw.
NJT - National Contest Journal. World Radiosport Team Championship 2022,  WRTC 2022 pre-qualifiers, My WRTC 2018 story by Adrian Ciuperca KO8SCA, and a profile of John Warburton, G4IRN.
Upcoming ARRL Webinar Schedule.
Introduction to Remote HF Operation. Presented by Davide Lanfranconi, W6DGE, and Kevin Shin-Wheeler, N7KSW, from the Cal Poly Amateur Radio Club. The Cal Poly Amateur Radio Club will be presenting on the idea, process, and challenges that were encountered while getting our club's remote HF station on the air, as well as some methods and resources available for amateur radio operators and clubs to get their remote stations on the air. Covid-19 has suddenly triggered a renewed interest for remote operations so we will also set aside some time for Q&A and a live station demo. Tuesday, June 22, 2021 @ 1 pm EDT (1700 UTC).
Previous ARRL Webinars of Interest: Here are a few of the dozens of topics covered by past ARRL Webinars:
RF Exposure Rules. These are mandatory for all stations in 2022, and for station changes that affect RF output, commencing May 2021.
Finding and Fixing RFI
Technicians: Life Beyond Repeaters.
Tri-Lakes Amateur Radio Association FM Net is held each Monday night (except 3rd Monday of the month which is the night of the Club's monthly meeting) commencing at 7:30 p.m. The Net is held on the NØXLF repeater located near Palmer Lake.  The NØXLF repeater frequency is: 147.075 MHz, +600 offset (i.e., 147.675 MHz). A 131.8 Hz CTCSS tone is required to access the repeater. We recommend leaving "tone squelch" off on your radio. Please add this to your frequency list. You may also access the Net through Echolink, NØOBA, node 10079.

Hang Out on the NØXLF Repeater. During the pandemic it's a great time to "hang out" on the NØXLF repeater. This should be your go-to place for FM. Don't forget that if ARES is using it (very infrequent) ARES has priority.

Equipment Loan Program. The Club still has a portable station available for loan to members. With the Covid-19 pandemic, the station has been available most of the time. If you would like to borrow it, please reach out to us and we'll get you on the schedule. The Station consists of an Icom IC-7300 (HF + 6m rig), a  Kenwood TMV71A (this is a mobile VHF/UHF rig), a diamond X50A VHF/UHF antenna, and a mast.  The gear is expertly mounted in a hard case and the station includes a power supply, wire end fed half wave antennas (20m and 40m).  These are great assets of the Club and may help you decide on your next radio. We have also recently acquired tools for Powerpole connectors. Everyone should benefit from using these.
Elmering. Jim NCØJW and others have been providing help to those who request assistance. If you need help with anything, please reach out. Our Google Groups email system is great for this purpose. If you have a question, please feel free to ask it - and remember: There are no stupid questions. If you have more than a question or two or would like to be paired with an Elmer, please let Jim NCØJW, Bob KØNR, or me know and we'll do our best to connect you with someone who can help you.  

Zoom Invitation/Link for the Next Monthly Club Meeting. The link for the next monthly Club meeting (and the discussion preceding the meeting) is: [This link has been deleted for security reasons. Please sign up for our Google Groups mailing list. The weekly updates that are emailed will contain the live link.].   Connecting should be as easy as clicking the link. If you have your Zoom account set up you should be prompted to open your Zoom app. If you don't have a Zoom account, you will be prompted to permit Zoom to download. Once it has been downloaded, you will click the prompt to join the meeting. ZOOM HAS UPDATED ITS SETTINGS AND YOU MAY NOW BE PLACED IN A "WAITING ROOM" BEFORE JOINING THE CALL. PLEASE BE PATIENT, WE WILL BE WORKING TO MINIMIZE THE WAITING. Please check the lower left hand corner of the display to confirm that the video does NOT have a red line through it. Please also confirm that the microphone does have a red line through it. If you do not have a camera and microphone on your computer, you may still observe and listen in.  The steps are the same, except you do not need to adjust your microphone and camera.

King Soopers Program. This is a simple way to generate easy money for the club. If you connect your King Soopers card to the Community Rewards program and select our club as the nonprofit organization, the club will receive a quarterly payment based on purchases. It costs you nothing and is a wonderful benefit for the club. Once you sign up, you are set forever. Please sign up for this program. We cannot emphasize this enough as this program really generates great revenue for the Club and it costs nothing for you to participate. Just log into your account (tied to your King Soopers Card) or create an account if you don't have one. Select Community Rewards Program,  Type in Tri-Lakes Monument Radio Association (or use our account number, KM150). Press "Enroll" and you will receive a confirmation. It's that easy and takes only a minute or two.

Sign up to receive this Newsletter. We use Google Groups for our email list, which is the best way to stay in touch with the radio club activities: W0TLM mailing list and Google group. Please pass this along to anyone who might be interested in ham radio in general or our Club specifically. Each Week, we are posting the most recent version of the Update on the Club's website. For security reasons, some of the links have been removed. If you want the links you will need to sign up to be on our mailing list.