The WØTLM VE Team holds six exam sessions per year. Exams for each license class (Technician, General, & Extra) are offered at all sessions. All sessions require pre-registration (see below). Sessions held in association with WØTLM license courses give priority to course students and may not have extra capacity. We charge no fees for examinations. 
Exam Session Schedule & Locations
Scheduled exam sessions are listed in the right margin of this page and on the WØTLM web calendar. Session information may also be found at our Laurel VEC team web page.
Currently scheduled exam sessions are as follows:
Feb. 17, 2024, 10:30 AM exam start time, Monument Library - 1706 Lake Woodmoor Drive, Monument, CO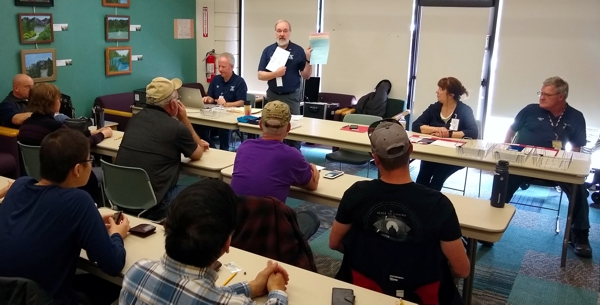 What You Will Need
New Applicants: If you are not a current FCC license holder, you must obtain an FCC Registration Number (FRN) before pre-registering for an exam session. The FRN is required for your FCC license application that results from your successful completion of the exam. See the instructions below for obtaining an FRN online from the FCC.
Upgrading Applicants: If you already have an FCC license, please pre-register for an exam session using your currently active call sign. (See pre-registration below.)
All Applicants: All applicants should bring the following items to the exam session.
FRN and/or current active call sign (required)
Current, valid, photo ID such as a drivers license, military ID, or student ID (required)
Pencil or two
Conventional calculator (no cell phone use allowed)
Note on New FCC Fee:  As of April 19, 2022, the FCC charges a $35 fee to license applicants. You will receive an email from the FCC  following your successful exam, with a link to the FCC payment website. You must complete your payment within 10 days of the email notice in order to receive your new license and avoid dismissal of your license application. Typically, your license will go into effect within 24 hours following payment, showing up on the FCC license database.
Pre-registration
The following information is required for your online pre-registration. Gather this information before completing the registration form:
FRN (new applicants) or current call sign (upgrading applicants)
Legal name (first, MI, last)
Mailing address (PO boxes are allowable)
Email address (usually same as that used for FRN registration)
Answer to this FCC-required question: Have you ever been convicted of a felony offense? (Additional documentation requirements and FCC review before license grant for those answering affirmatively to this question.)
Date of WØTLM exam session you wish to attend
To pre-register for a session, complete and submit the registration form by clicking the "Register for exam session" link in the right margin of this page, or here:  Register for exam session.
FRN Acquisition
An FCC Registration Number (FRN) is required to pre-register you for an exam session with WØTLM. The FRN is also required for your FCC license application that will be submitted by our team. To get an FRN from the FCC:
Go to the FCC Registration System (CORES) and register for an account.
Complete the email registration verification when it arrives in your In-Box.
Use your new account information to login to the FCC CORES system again and complete an application for FRN.
Record your FRN when it is issued via the web site.
You may find help information topics on registering for a CORES account and submitting an FRN application at this FCC help page:  https://apps.fcc.gov/cores/publicHome.do?help=true 
About Our VE Team
The WØTLM Volunteer Examiner Team is a Laurel VEC-affiliated team. Our sponsoring organization, the WØTLM Tri-Lakes Monument Radio Association (a Colorado-registered 501c3 organization), pays all expenses for examinations for our applicants. All team members are accredited by the Laurel VEC. Team lead is Stu WØSTU, with Deputy Team Leads Stephen KZØQ and Barbara KØBE. Questions may be directed to Stu WØSTU at w0stu@arrl.net.