Club Hat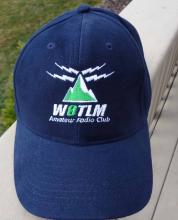 Dominator Collection Cap - BDC with Club logo and call sign.
Product Description
Heavy Weight, 100% Cotton, with grommet clasp closure. A one-size fits most, style. This style is called structured and is one of the stiffer style ball caps.
Note: The supplier imposes a minimum order of 6 caps. If we do not receive sufficient orders (i.e., for 6 or more caps) we will refund orders we are not able to fill. This determination will not occur until after the end of the Club's formal ordering cycle.